Sunfast and Non Benzidine Direct Dyes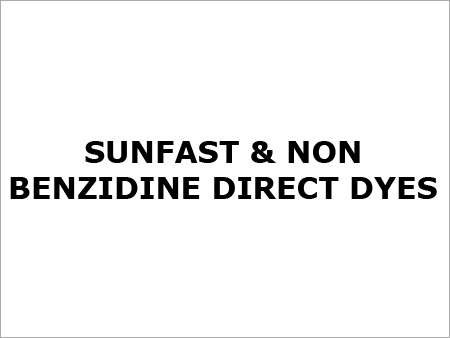 Sunfast and Non Benzidine Direct Dyes
Price And Quantity
Product Specifications
98%-99%

Textile Dyestuffs
Product Description
With an aim to become leading entity in this domain, engrossed in offering top notch grade
Sunfast and Non Benzidine Direct Dyes
. These dyes are widely used for coloring cotton, wool, paper and leather. The offered dyes are processed using quality examined chemical by our ingenious professionals at advanced processing unit. The provided Sunfast and Non Benzidine Direct Dyes can be bought at reasonable rates.
Key Points of Sunfast and Non Benzidine Direct Dyes:
Accurate composition

Longer shelf life

Easy to apply

Water soluble

Sunfast and Non Benzidine Direct Dyes

Direct dyes are, a class of dyes, one of the two varieties of dyes which are mixed in multipurpose dyes like Rit. (Another variety in the combination is an acid dye, which does not remain for long in any cellulose fiber. Direct dyes have shades duller than those offered by dyes which are fiber reactive; and the fastness of wash is poor but they be extra lightfast. In the Color Index system, the direct dye denotes different highly conjugated, planar structures which also comprise one or more group of anionic sulfonate group. It is owing to these groups of sulfonate that the molecules are water soluble.

While most of the direct dyes could be received in form of powder, it is highly popular to obtain them in the form of liquid concentrates. The benefit of concentrates is that they are convenient to meter and handle. The shortcoming is that the co-solvents and surfactants are required to keep the dye concentrates in stable form which could hinder sizing and retention in the case of grades colored very deeply.
| | |
| --- | --- |
| Commercial Name | C. I. Name |
| Direct Brill.Paper Yellow By | Direct Yellow 4 |
| Direct Yellow 3GX | Direct Yellow 6 |
| Direct Lemon Yellow 6g/CfG | Direct Yellow 8 |
| Direct Paper Yellow T | Direct Yellow 11 |
| Direct Crysophenine G | Direct Yellow 12 |
| Direct Fast Yellow 5gl | Direct Yellow 27 |
| Direct Fast Yellow Rr/Ff | Direct Yellow 28 |
| Direct Fast Yellow 5gll | Direct Yellow 44 |
| Direct Fast Yellow Rslw | Direct Yellow 50 |
| Direct Supra Yellow Rl | Direct Yellow 86 |
| Direct Sun Yellow Rch | Direct Yellow 99 |
| Direct Fast Yellow Arl | Direct Yellow 106 |
| Direct Fast Yellow Gl | Direct Yellow 120 |
| Direct Fast Yellow Pg | Direct Yellow 142 |
| Direct Fast Orange Se | Direct Orange 26 |
| Direct Fast Orange Tgll(Y) | Direct Orange 34 |
| Direct Fast Orange Tgll(R) | Direct Orange 39 |
| Direct Orange Ws | Direct Orange 102 |
| Direct Viscose Orange A | Direct Orange 108 |
| Direct Bordeaux Bw Nb | Direct Red 7 |
| Direct Fast Scarlet 4bs | Direct Red 23 |
| Direct Fast Red 12b | Direct Red 31 |
| Direct Light Fast Red 6bl | Direct Red 79 |
| Direct Light Fast Red Bln | Direct Red 80 |
| Direct Fast Red 5bl | Direct Red 81 |
| Direct Fast Rubine Violet 2r | Direct Red 83 |
| Direct Scarlet 6bs | Direct Red 239 |
| Direct Brill.Fast Helio 2r | Direct Violet 7 |
| Direct Fast Violet Mb | Direct Violet 9 |
| Direct Paper Violet Bl | Direct Violet 35 |
| Direct Brill. Violet Helio B | Direct Violet 1 |
| Direct Fast Green Bll | Direct Green 26 |
| Direct Fast Green 2bn | Direct Green 96 |
| Direct Sky Blue Fbc | Direct Blue 1 |
| Direct Sky Blue Ffh | Direct Blue 15 |
| Direct Blue Nb 2b | Direct Blue 54 |
| Direct Fastblue 3rl | Direct Blue 67 |
| Direct Fastblue Gll | Direct Blue 71 |
| Direct Fast Blue 2rl | Direct Blue 80 |
| Direct Turquoise Blue Gl | Direct Blue 86 |
| Direct Turquoise Blue Fbl | Direct Blue 199 |
| Direct Light Fast Blue 7gll | Direct Blue 218 |
| Direct Fast Black VSF 600 | Direct Black 22 |
| Direct Fast Grey RLN | Direct Black 56 |
| Direct Diazo Black OB | Direct Black 80 |
| Direct Black BF | Direct Black 155 |
| Direct Black SB | Direct Black 168 |
| Direct Black ENB | Direct Black 170 |
| Direct Fast Brown M | Direct Brown 494 |
| Direct Fast Brown N | Direct Brown 422 |
| Direct Fast Leather Brown MN | |
Trade Information
100000-150000 Per Month

7 Week
Asia, Australia, Central America, North America, South America, Eastern Europe, Western Europe, Middle East, Africa